Mobile and Portable
Aid your clients in providing their external WorkForce or those with a need to travel one of the lightest mobile scanners available in the market.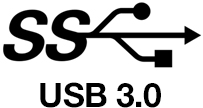 Powered by USB 3.0
Powered by USB 3.0, the DS-310 and DS-360 are the smallest & fastest A4 sheet-fed scanners available.
Why Epson?
The DS-30 offers many "scan to" functions including scan to cloud, scan to email and scan to sharepoint alongside many other document imaging features such as bar code recognition and zonal OCR support.
Mobile Scanners
---
Epson WorkForce DS-360W

PART CODE: 4122716
MANU CODE: B11B242401BY
---
Epson WorkForce DS-310

PART CODE: 4122717
MANU CODE: B11B241401BY
---
Epson Epson WorkForce DS-30

PART CODE: 2349598
MANU CODE: B11B206301